2023 Young Woman of Distinction Award Recipients Announced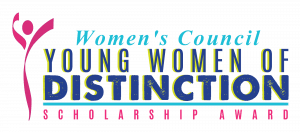 ROCHESTER, NY (May 2, 2023) – Greater Rochester Chamber of Commerce and its Women's Council Affiliate announced the recipients of its 23rd annual Young Women of Distinction Awards at a ceremony on Tuesday, May 2 at OFC Creations Theatre Center located in Winton Place. The scholarship program is presented to high school senior women who demonstrate leadership and a commitment to community service while letting their creativity shine.
The 2023 recipients are:
Ana Fontan, East Upper High School
Sydney Heise, Hilton High School
Emma McLaughlin, Perry Junior/Senior High School
Alisha Upal, Pittsford Sutherland High School
These four recipients, one each from the Rochester City School District, Monroe County east, Monroe County west, and the eight regional counties surrounding Monroe, receive a $2,500 scholarship, while other finalists receive a $250 scholarship. This year's other finalists are as follows:
Brynn Davis, Naples Central School
Taiasia Gibson, East Upper High School
Lauren Lamberson, Irondequoit High School
Avery Leonard, Avon High School
Muchima Manengu, Greece Athena High School
Natalie McFadden, Geneva High School
Beatrice Reichman, Penfield High School
Emma Rosato, Aquinas
Sophia Seiffert, Our Lady of Mercy
Congratulations to all of our finalists, and thank you to all of our generous donors who make these awards possible. Modeled after the ATHENA International Award, the Young Women of Distinction program embodies the Women's Council's belief that young women with promise today will become tomorrow's leaders. To learn more about the program, please see the Women's Council website.
About the Women's Council
The Women's Council, a Greater Rochester Chamber affiliate, is for every woman who dares to pursue the career she always wanted. Their mission is to increase the visibility and recognition of women who contribute to the vitality and economic success of the Greater Rochester area, increase opportunities for personal and professional development, support efforts of women to reconnect with professional aspirations, and to support women through community service initiatives that advance their mission. Visit rocwomenscouncil.org to learn more.