Veterans for Hire in #GreaterROC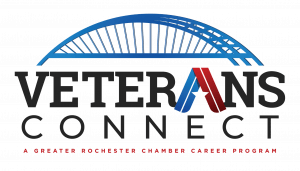 Veterans Connect, a Greater Rochester Chamber Talent Strategy Program, is working with two experienced veteran candidates looking to find career opportunities in Greater Rochester. Hiring veterans can bring a wealth of benefits to an organization, including strong leadership skills, teamwork abilities, and a strong work ethic. Veterans also often have a unique perspective and diverse experiences, making them valuable assets to any team.
The first candidate is seeking remote leadership roles in the Customer Service/Engagement/Success/Journey spaces. This experienced individual has over thirty years of experience leading teams, most recently overseeing 300+ employees and leading projects that reduced cost per contact by 25%. They also led the successful launch of a call center for an international brand, increased service engagement by 30%, and improved customer satisfaction and retention. View their anonymized resume to see more details.
The second candidate is seeking a business finance or business analyst role. This individual is experienced in acquiring DoD contracts and prefers cost and financial analysis. They have 6+ years of civilian experience and are passionate about driving customer satisfaction and repeat business while maximizing brand reputation and revenues. In their current role, they perform in-depth analytical research on prospective options, partners, or competitors and demonstrate high levels of communication skills with regular strategic or industry-related briefings to top executives. View their anonymized resume to see more details.
The Veterans Connect program was designed to support active duty military service members who are transitioning to civilian life by providing employment opportunities, housing assistance, and related transitioning services for soldiers and their families. We want to make your transition to the Greater Rochester region a seamless and enjoyable experience and we are proud to partner with you to support your next adventure and thank you for your service. To learn more about the Veterans Connect program, see here.