First 13WHAM News/Fox Rochester "Geared for Growth" segment highlights new locations of M/Body and Lumos Infrared Sauna Studio in Webster, NY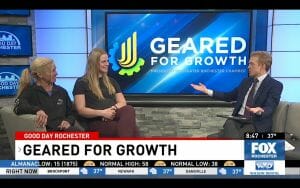 On Wednesday, April 19, 2023, the first installment of the new "Geared for Growth" interview series with 13WHAM News aired on Fox Rochester during "Good Day Rochester," featuring an interview with Molly Flaherty of M/Body and Rachel Bantelman-Evans of Lumos Infrared Sauna Studio. The interview highlighted their innovative small businesses and an upcoming ribbon cutting and block party celebration on Main Street in Webster, NY, which took place on Thursday, April 20, 2023.
Molly Flaherty, the owner of M/Body, is a well-known name in the Rochester fitness community. M/Body is a health and wellness studio that offers a variety of services,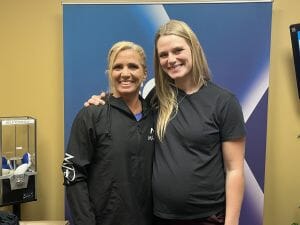 including yoga, barre, cycle, pilates and even bounce classes. During the interview, Flaherty discussed her journey towards opening a new location in Webster, NY. She also shared her passion for helping others achieve their fitness goals in a welcoming space.
Rachel Bantelman-Evans is the owner of Lumos Infrared Sauna Studio, a full-spectrum infrared sauna studio with five locations throughout Central and Western New York. Lumos is the first Infrared Sauna Studio to open in the Greater Rochester and Greater Buffalo regions, and is a unique wellness center that offers infrared sauna sessions to help clients relax and recover. Bantelman-Evans talked about the benefits of infrared saunas and how they can help people with various health issues.
Molly and Rachel discussed their collaborative effort to open new locations of their growing, complimentary wellness-focused businesses at the new North 43: The Shops on Main St., in Webster.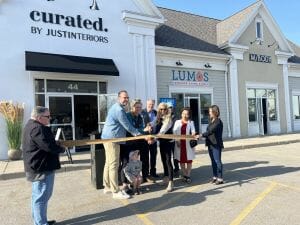 The ribbon cutting celebration for M/Body, Lumos Infrared Sauna Studio, and curated. was held on Thursday, April 20, 2023, and was attended by many members of the Webster community, as well as local officials. The event was a great success, and both Flaherty and Bantelman-Evans expressed their gratitude for the support they received.
Stay tuned for the next installment of "Geared for Growth" on Wednesday, April 26, 2023 at 8:45 AM on Fox Rochester!