A look back: Black Button Distilling's First Decade in Rochester
By Jason Barrett, Black Button Distilling Founder & Master Distiller
Last year, Black Button Distilling celebrated ten years of crafting grain-to-glass craft spirits made right here in Rochester. This July, we embark on the next decade of our craft spirits journey with the opening of our new and expanded tasting room at 1344 University Avenue. As we look forward to the next decade in Rochester, I'm proud of the progress and impact we've made on the Flower City -- in the business community, and beyond.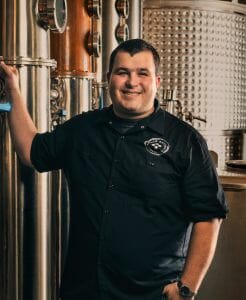 When we first moved into our location at 85 Railroad Street it was a desolate, industrial area. Today, it is a thriving hub of restaurants and unique beverage producers. We have loved the relationships we've cultivated with the people and businesses on this street, like Rohrbach Brewing Company, who has been a fantastic landlord and next-door neighbor. And we've been lucky to be just down the street from The Rochester Public Market, a Rochester mainstay, where we purchase fresh produce for our cocktails each week.
While we will miss our friends on Railroad Street, our relocation will take us just a mile down the road to University Ave., where we will join a new corridor of craft beverage producers. We are excited to show off our upgraded facility which will quadruple our physical space from 5,000 sq. ft. to 28,000 sq. ft. And we will have 200 parking spots – a huge upgrade! And, of course, our new space will allow us to make more of our award-winning grain-to-grass spirits. Our average annual spirits production will increase from 1,000 barrels of spirits per year to as much as 4,500 barrels in the first few years.
In the decade we spent on Railroad Street, hundreds of thousands of people have been to visit us and have celebrated with us and alongside us over the years. The support we've received from the Rochester community has been more than I could have ever imagined. So, we're building our new space with the community in mind. Our Retail Tasting Room space will grow from 700 sq. ft. to 5,100 sq., allowing for significantly increased seating capacity, private event space and expanded hours of operation for the public so we can host more guests. We will soon have a private room with space for up to 200. And our new interactive tour experiences will include even more details about the history of our great city and the whiskey making progress.
Black Button Distilling is a Western New York endeavor – with pride. What we do comes down to local. Our people are local, our products are local. Our grain is grown locally. Our labels are made locally. Our food is bought locally. Our kegerators are cleaned and supported by Rochester Store Fixtures. Our mechanical and general contractors are local. Vance Metal in Geneva will repair our tanks. Criveller in Niagara Falls is custom building our new fermenting and storage tanks. Everything we do is staying local whenever possible. Because that is what makes our whiskey represent Western NY.
To that end, we also look forward to further giving back to our community and see our new space on University Ave. as an opportunity to expand on our relationships and deepen our ties. Whether it's raising money for Mended Little Hearts, Golisano Children's Hospital, or Homesteads for Hope, through our new Black Button Cares initiatives we look forward to further supporting those in need, locally.
Because there's no place like home. That's why we're staying in Rochester. We made a conscious choice to stay downtown for our next chapter, and we're happy to do it. So, thank you for your support over the past decade. We look forward to seeing you over these next ten years – and beyond. Cheers!