2023 Greater Rochester Chamber Advocacy Day Recap
On Thursday, March 23, 2023, Greater Rochester Chamber brought six representatives from member organizations to Albany to meet with elected officials for an annual Advocacy Day. These members span industries and sizes to bring the needs of the #GreaterROC business community directly to government leaders. Industries represented included manufacturing, information technology, education, not-for-profit, retail, and development.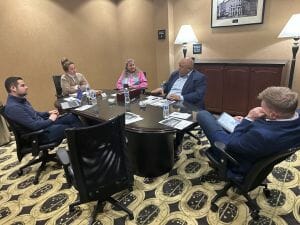 The trip kicked off on Wednesday night with an economic policy briefing hosted by Paul Zuber, Executive Vice President of The Business Council of New York State. Zuber briefed our members on important matters including walking through Governor Kathy Hochul's $227B budget proposal. The presentation focused on the elements of her proposal that will most directly impact our nine-county Finger Lakes region. Our members engaged in a thoughtful discussion on topics including public safety, economic growth and expansion, mental health, minimum wage, and healthcare.
Greater Rochester Chamber Chief of Staff Marc Cohen said, "It was outstanding to bring back this annual event that has been on hiatus since the pandemic began. While advocacy can take many forms, directly engaging with elected leaders in Albany is crucial for business leaders who want to shape policies that affect their industry and community. We are proud to have played a role in allowing members to do that. Being in Albany during budget negotiations is prime time as our efforts can have a direct impact on real-time decisions. Greater Rochester Chamber and our CEO Bob Duffy are glad to have been able to offer this opportunity to members and we look forward to continued advocacy throughout the year. Thank you to the Legislators and their staff who took the time to meet with our members and consider their best interest when taking votes and making decisions."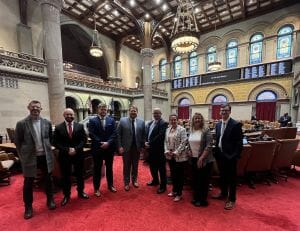 Thursday was full of meetings with leaders from both sides of the aisle including Senator Jeremy Cooney, Assemblywoman Sarah Clark, Assemblymember Harry Bronson, Senator Pam Helming, Assemblymember Josh Jensen, and Jenn Weintraub, Legislative Director for Deputy Majority Leader Senator Michael Gianaris. During these meetings, members engaged in candid dialogues with changemakers in Albany ahead of the budget passing to express their concerns and talk about top priorities for their businesses. Topics discussed included public safety, COVID sick pay, regulations and mandates, education reform, workforce development, and other specific bills relevant to represented members.
Senator Jeremy Cooney said, "It was my pleasure to welcome business owners from across the Rochester region, and introduce them from the floor of the Senate. Greater Rochester Chamber members are building our community and driving us forward. I deeply appreciate their advocacy, invaluable insights and the work of President Bob Duffy and Chamber staff for their consistent efforts on behalf of small businesses."
Senator Pam Helming said, "The Greater Rochester Chamber of Commerce and its members represent the businesses, organizations and voices that must be heard in Albany. Thank you to Bob Duffy and his team for continuing to lead and advocate for policies that will make our economy strong and our communities safe. Small business, healthcare, trades, manufacturing, farms, nonprofits and more -- it takes all of us working together to ensure a brighter economic future."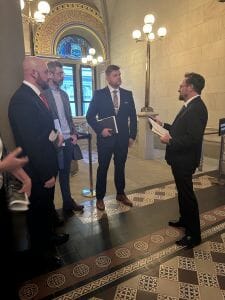 Jon Smith, Chief, Pittsford Volunteer Ambulance, said "We want to express our appreciation for Greater Rochester Chamber for all of your efforts to bring this event to fruition. We're greatly appreciative of all the organization has done in coordinating advocacy day, and all they do to support our success each day. We had a great group in attendance in Albany which made it difficult to miss the strength and values of our Greater Rochester business community. I look forward to any future opportunity to advocate, and participate with the Chamber."
Greater Rochester Chamber is an advocacy partner for our 1,300 members in the Greater Rochester region. Our advocacy work is a collaborative process with our members and your concerns inform our work. Advocacy can come in many forms, from the direct advocacy with lawmakers we had in Albany, to utilizing our network to help make connections that will help your business. To see Greater Rochester Chamber's top priorities, please see our 2023 Advocacy Agenda.
Learn more about advocacy and how Greater Rochester Chamber can help you Connect to Success: