Tickets are On Sale Now for GiGi's Playhouse Rochester "Red Carpet Affair Take Two" Gala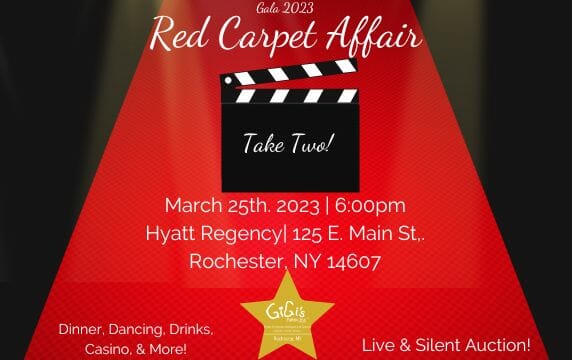 ROCHESTER, NY, Mar. 1, 2023—Tickets are now on sale for the
GiGi's Playhouse Rochester 6th Annual Gala
– "Red Carpet Affair Take Two!" scheduled for Saturday, March 25 at the Hyatt Regency Rochester. GiGi's Playhouse Rochester is a nonprofit Down syndrome achievement center.
GiGi's hopes to raise $150,000 at the Gala, to support free programming for people with Down syndrome in the Rochester region.
"This is our most important fundraising event of the year and we have so much fun planned for our guests," said GiGi's Playhouse Rochester President, Jennifer Bustamante. "We will shine a light on GiGi's accomplishments to date and celebrate our guests and the support from our community who help make what we do every day possible."
The night includes dinner, drinks, a silent auction, a live auction and casino tables.
About GiGi's Playhouse Rochester
GiGi's Playhouse Rochester
 is a non-profit organization that serves people with Down syndrome from prenatal diagnosis to adulthood focusing on achievement, belief and confidence. Open since April 2017, it is part of 
GiGi's Playhouse
 network of 53 Down Syndrome Achievement Centers and growing across the United States and Mexico — the only network of its kind that provides free, life-changing therapeutic, educational and career training programs for 30,000+ individuals of all ages.
Through free programs and the Generation G Campaign for global acceptance, GiGi's helps maximize opportunities for daily achievement and lasting acceptance. The program helps advance a vital social impact goal by showing the world what individuals with Down syndrome are capable of achieving as students, co-workers, volunteers, friends, and valued members of their communities.
For more information about free programs, volunteerism, impact partnerships, events, and the many ways to support GiGi's Playhouse Rochester families visit: 
gigisplayhouse.org/rochester
.