Lessons from Micron & CNY: Webinar provides insight into business attraction success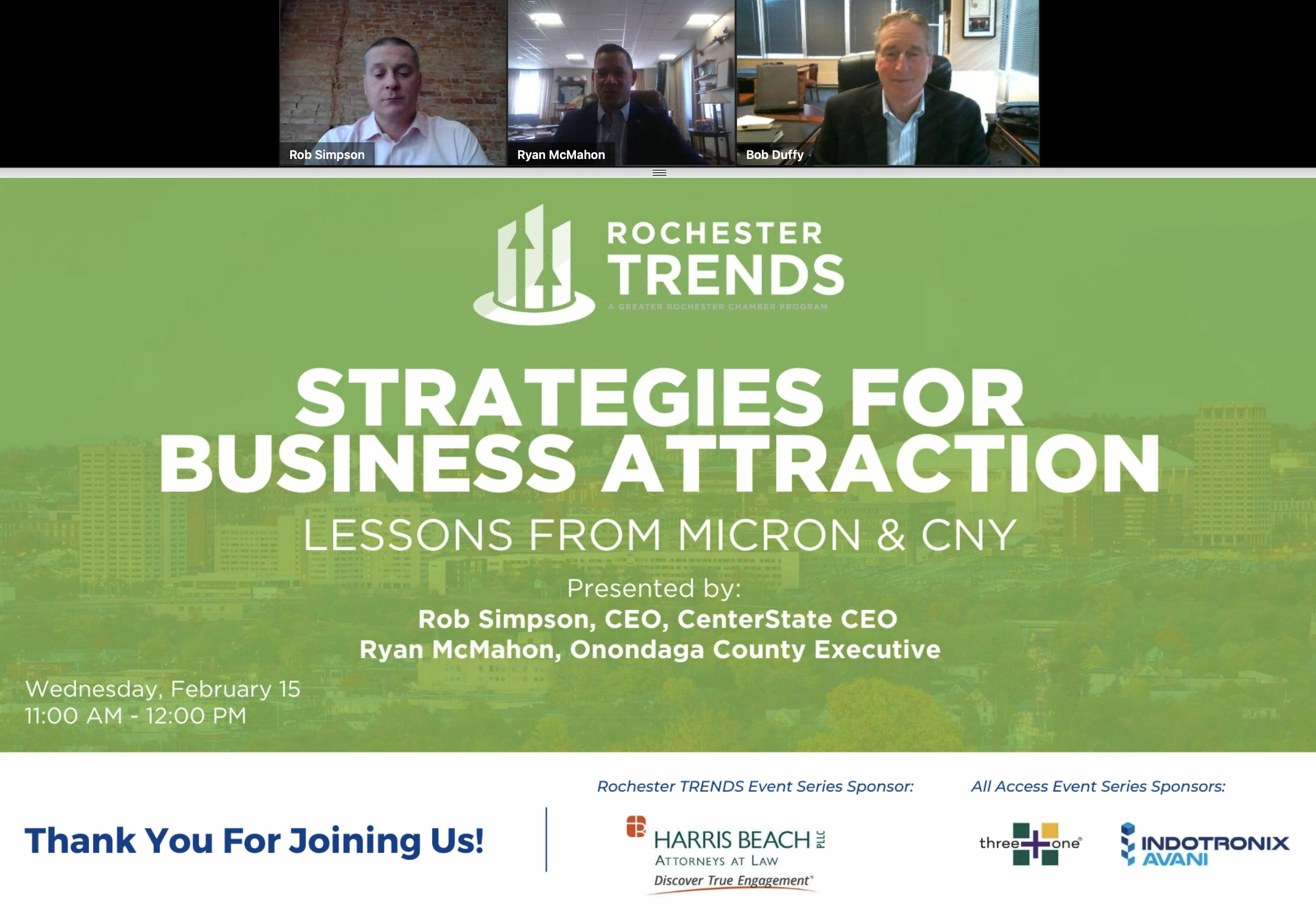 Attracting businesses to a region is a complex and multifaceted task that requires a range of measures, from infrastructure investment and workforce development to tax incentives and marketing campaigns.
Central New York (specifically the Syracuse area) won what has been called the "Super Bowl" of economic development when they landed Micron, one of the world's largest semiconductor companies and the only U.S.-based manufacturer of memory.
Micron recently announced plans to build the largest semiconductor fabrication facility in the history of the United States, which will increase domestic supply of leading-edge memory and create nearly 50,000 New York jobs, including approximately 9,000 high paying Micron jobs. Micron intends to invest up to $100 billion over the next 20-plus years to construct a new megafab in Clay, New York, with the first phase investment of $20 billion planned by the end of this decade. This represents the largest private investment in New York state history.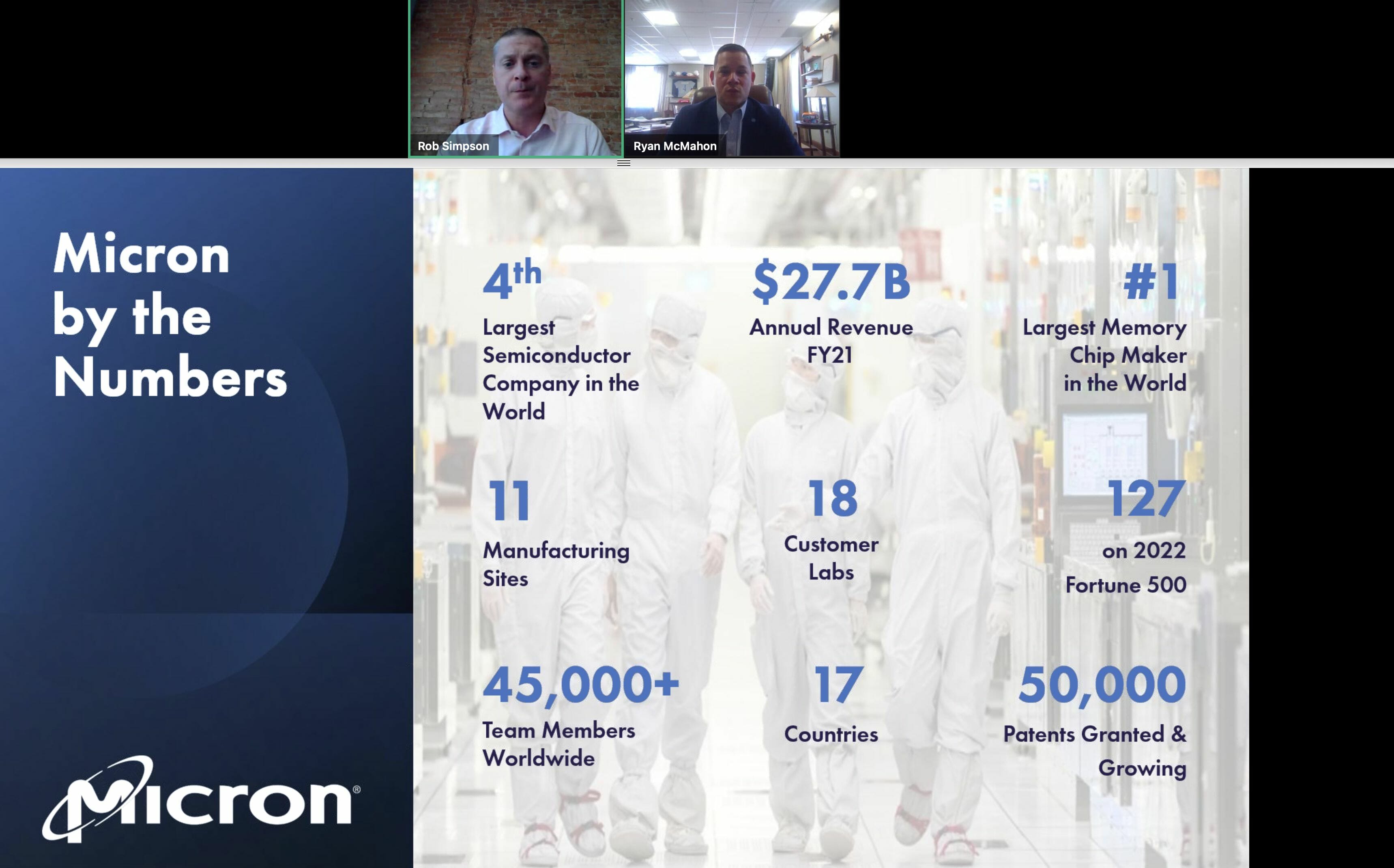 Onondaga County Executive Ryan McMahon and Syracuse-based economic development agency/chamber of commerce CenterState CEO CEO Rob Simpson joined Greater Rochester Chamber members and local leaders to discuss the business attraction strategies they used to attract Micron and other important companies to Upstate NY during a webinar on Wednesday, February 15, 2023.
Onondaga County Executive Ryan McMahon shared that there were three key areas that helped to seal this historic deal.
Developing a large enough site and investing in necessary assets. CNY grew the 300 acre White Pine Commerce Park to over 1000 acres in order to provide a usable space, as well as investing in the availability of gas and electric power, water, and wastewater management.
Telling the community's story. Companies want to see a growing community, and one that can develop the necessary workforce. Onondaga County tapped CenterState CEO to help tell the workforce development story, as well as other businesses to share their positive experiences with growing and doing business in the region.
Putting together attractive incentives at every level. Onondaga County put together a robust local incentive package, as did New York State, with hands-on assistance from Governor Kathy Hochul. This included the newly created Green CHIPS program. At the federal level, Senator Chuck Schumer was instrumental in passing the CHIPS and Science Act, which includes an investment tax credit.
Going forward, the CNY region is investing heavily in workforce development, including recruiting engineers from across the country to fill current and future positions.
County Executive McMahon recommended that communities identify their strengths and assets, invest in these areas, and work together as a seamless team. He also underscored the competitive edge that Upstate NY has in the business attraction space.
"We're used to 30 or 40 years of seeing investments go elsewhere in certain sectors, and that's changing now. We need to realize that our strengths of living, playing, and raising a family here are second to none. There's no better place in the country, if not the world...and we need to embrace that, and market that better."
Greater Rochester Chamber will continue to lead business attraction and expansion efforts with partners in our region by utilizing our relationships, resources, and telling the incredible story of our region. This will be especially important as more companies seek to locate here as part of the semiconductor supply chain, with a recent example of Edwards Vacuum at the Genesee County STAMP facility.
For more information or to share comments on business attraction efforts, please email us at Chamber@GreaterRochesterChamber.com.
Thank you to TRENDS Event Series sponsor Harris Beach and All Access Event Sponsors three+one and Indotronix Avani for making this important event possible!