Tompkins Community Bank Celebrates Grand Opening of Golisano Community Engagment Center
ROCHESTER, NY, February 9, 2023 – Deepening its commitment to the Greater Rochester community, Tompkins Community Bank celebrated alongside Roberts Wesleyan University (RWU) last week in the grand opening of the Golisano Community Engagement Center (GCEC), a brand new hub for connection, community interaction and student life resources on campus. Earlier this year, Tompkins gifted $75,000 to the university, which was pledged to the development of the long-awaited center. In celebration of its partnership with the university, Tompkins was granted naming rights for the main office of the GCEC's Community Institutes, one of the new suites on the second floor of the building.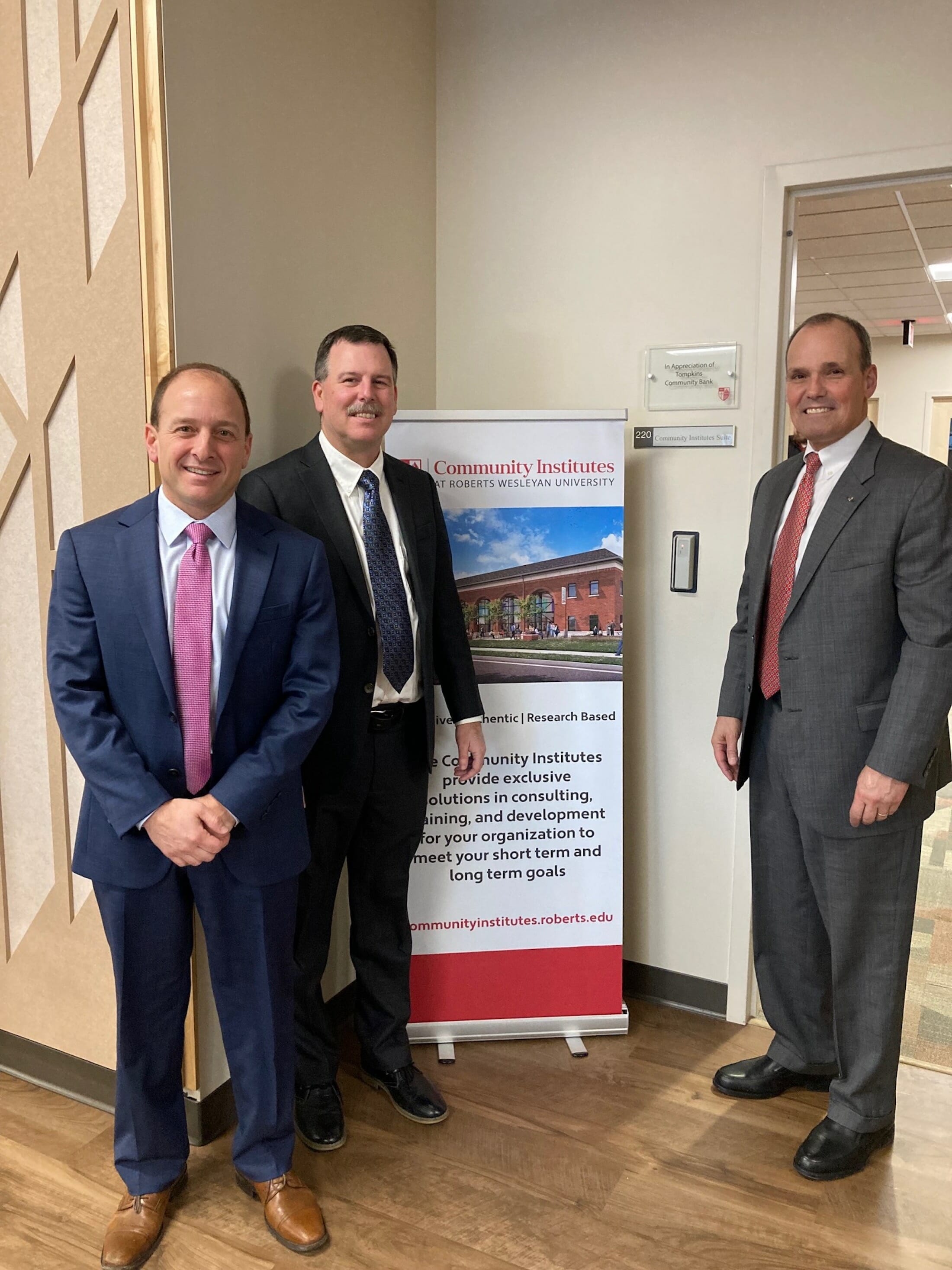 "As a community bank, one of our highest priorities is to find ways we can support and engage with the communities we serve and we find it even more rewarding when we can support a customer as well," said John McKenna, president of Tompkins' Western New York market. "This project is exceptional in that it fills a need for Rochester community at large, and at the same time provides a venue to expand the University's already extensive reach in this region."

According to the university, the 26,167-square-foot, two-story center serves as the first building on campus to provide centralized space for both students and the community to gather and interact. The first floor encompasses 3,000 square feet of event space available for campus functions and rental opportunities, as well as amenities such as a gaming lounge and study spaces for students. The second floor functions as a workplace for the RWU's custom training and certificate programs offered through the Community Institutes, a RWU program that provides community-focused educational solutions and resources to area businesses and organizations seeking real-world learning experiences, insight and transformational partnerships both locally and abroad. 
"The mission of the Community Institutes—to expand access to education and community connection—is directly in line with our mission at Tompkins," said McKenna. "We're grateful to be a small part of the university's success with this project, and excited to see the positive impacts that the center will have on the Rochester community in the years to come."

About Tompkins
Founded in 1836, Tompkins Community Bank serves the Central, Western, and Hudson Valley regions of New York, and the Southeastern region of Pennsylvania. Through their unique local decision-making model, the bank offers personalized service and exceptional responsiveness, while delivering a broad range of products and services for consumers and businesses. Insurance services are offered through Tompkins Insurance Agencies, and wealth management services are available through Tompkins Financial Advisors. Further information is available at www.tompkinsbank.com.