Allen, Sinisgalli-Kettavong, New York Kitchen Receive 2023 ATHENA International Awards
Honoring Women Leaders in the Greater Rochester and Finger Lakes Region
ROCHESTER, NY (February 2, 2023) – Greater Rochester Chamber of Commerce and its Women's Council affiliate presented Carmen Allen, President & Executive Director, Beyond the Sanctuary with their 37th annual ATHENA International award. Natalie Sinisgalli-Kettavong, Founder & CEO, NSP Studio and Embolden received the ninth annual ATHENA Young Professional Award, and New York Kitchen was awarded the sixth annual ATHENA Organizational Award at an awards ceremony at the Floreano Rochester Riverside Convention Center on Thursday, February 2. View the 2023 ATHENA International Awards publication celebrating our finalists, sponsors, and past recipients.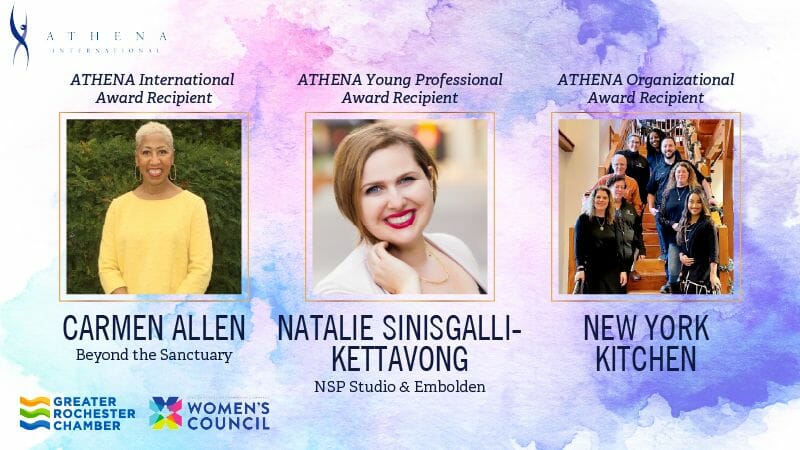 The ATHENA International Award is given annually to a professional female leader who has demonstrated significant achievements in business, community service, and the professional advancement of women.
Carmen Allen is the founder of the nonprofit Beyond the Sanctuary, Inc. (BTS) and is currently the organization's president and executive director. She has led BTS from a small food pantry into multi-program organization that addresses the challenges of poverty and helps community members move from assistance to become self-sustaining. She is unwavering in BTS' core values of treating everyone with dignity, respect and compassion and never turning anyone away. She has also served as a board member of several local organizations, including the Urban League of Rochester, the Urquhart Memorial Foundation, the Monroe Community College Foundation, Garth Fagan Dance, and the Strong National Museum of Play.
The ATHENA Young Professional Award recognizes emerging leaders in the 30-to-45 year old range who demonstrate excellence, creativity, and initiative in their business or profession. Recipients also provide valuable service by contributing time and energy to improve the quality of life of others in the community while serving as a role model for young women both personally and professionally.
Natalie Sinisgalli-Kettavong launched her award-winning boutique portrait business, NSP Studio, in 2007 and has grown it over the past 15 years by empowering women and building community through her stunning, confidence-boosting headshots, boudoir, family and wedding photography. Natalie and her team work with non-profit organizations that lift up women in our community with headshot fundraisers that have benefitted YWCA, Dress For Success, the Women's Foundation, Willow Domestic Violence Center, and NAMI Rochester. In 2019, Natalie started her second business, Embolden, with one goal in mind: to help female entrepreneurs and professionals excel through 1:1 coaching, online resources, and more.
The ATHENA Organizational Award goes to a woman-owned or woman-led business or organization that creates a culture encouraging women employees to achieve their full leadership potential and supports leadership development opportunities for women and girls in the community.
As a women-led nonprofit organization and tourism hub located in the heart of New York State's lush Finger Lakes region, New York Kitchen introduces consumers to the world-class products made right here in the Empire State. Each day, New York Kitchen offers fun and educational hands-on cooking and craft beverage pairing classes and programs, industry certification courses, and a 100% New York State Tasting Room. Through partnerships with area farmers, wineries, breweries, distilleries, producers, and entrepreneurs, New York Kitchen proudly highlights and promotes the quality, diversity, and economic impact of food and beverages that originate in New York State.
Recent ATHENA Award Recipients include:
· 2022: Colleen Davis, University of Rochester Medical Center
· 2021: Lauren Dixon, Dixon Schwabl
· 2020: Dr. Heidi Macpherson, SUNY Brockport
· 2019: Hilda Rosario-Escher, Ibero-American Action League
· 2018: Sharon Napier, Partners + Napier
Recent ATHENA Young Professional Award recipients include:
· 2022: Tanvi Asher, Shop Peppermint
· 2021: Cicely Strickland-Ruiz, United Way of Greater Rochester
· 2020: Julie Camardo, Zweigle's
· 2019: Shaquana Divers, Excellus BCBS
· 2018: Kim Allen, Dixon Schwabl
Recent ATHENA Organizational Award recipients include:
· 2022: Family Promise of Greater Rochester
· 2021: Brockport Research Institute
· 2020: Butler/Till
· 2019: HCR Home Care
· 2018: Dixon Schwabl