IDEX Health & Science Life Science Optics Team Supports Rochester Community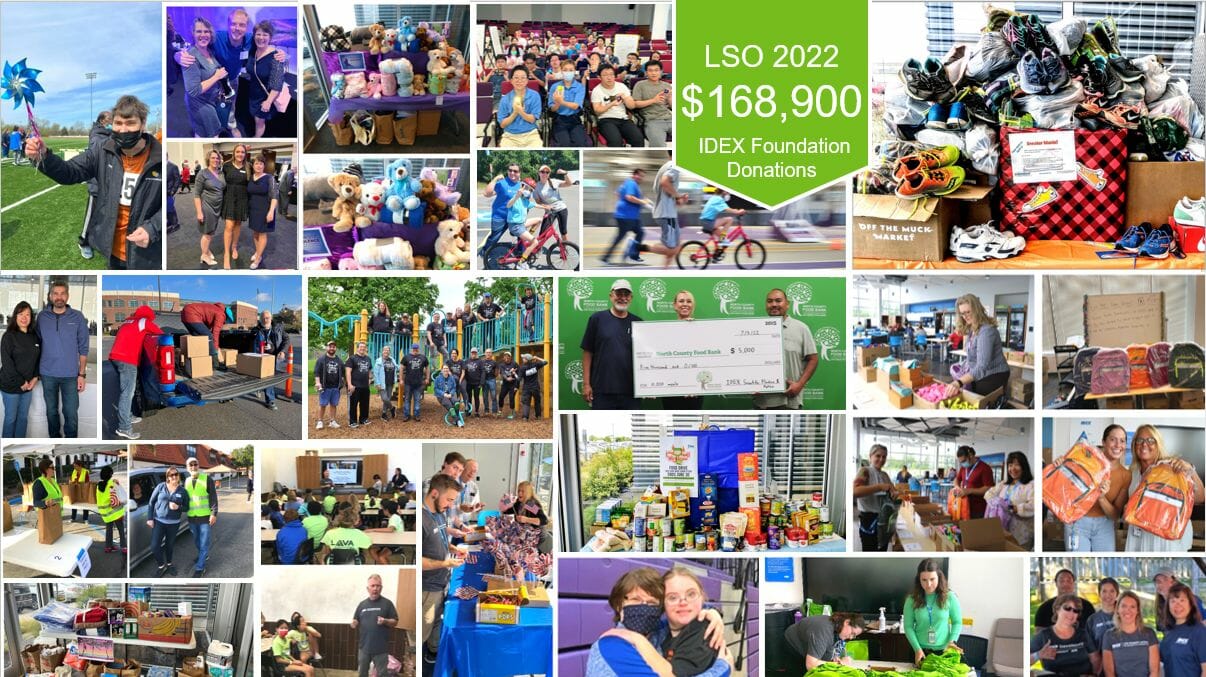 Rochester, New York, January 12, 2023 – "The IDEX Health & Science Life Science Optics team is dedicated to promoting equity and opportunity through volunteerism and outreach in the communities in which we live and work," said Dina G. Vazzana Vice President/General Manager. "This defines the 'IDEX Difference.' It is more than a slogan; it is demonstrated at every level throughout the company."
In 2022 alone, the Life Science Optics (LSO) team—working in conjunction with the IDEX Foundation—donated $168,900 to local organizations and hundreds of volunteer hours. A key factor in gaining funding from the IDEX Foundation is volunteering in-person at local nonprofits. Over the years we are grateful that the number of volunteer hours, nonprofit organizations, and dollars have increased to provide an even greater impact.
"I'm a proud employee of IDEX Health & Science," said Lorie Pfaff, a member of LSO's Employee Engagement team. "I can truly say we are passionate and committed to working hard together to volunteer in all sorts of innovative, fun, and creative ways to show our communities' non-profit organizations we care and support them. This is honestly, the natural culture here at IDEX."  
One such success story in 2022 came about through our partnership with AutismUp to fund a new program within the Rochester City School District (RCSD), opening opportunities to kids who would otherwise be unable to afford such programs.
Sarah Milko, Executive Director of AutismUp, noted:
"AutismUp is so fortunate to have the support of IDEX and its employees! This year, because of IDEX, AutismUp was able to present a multitude of programs and support to families that otherwise would not have had access. This funding, coupled with the hard work of IDEX volunteers, provides a critical step in bridging the gap in after-school and family services that currently exists among RCSD students who are in special education classes."
The team also volunteered at three Special Olympics events. Kelly Ligozio, Senior Director of Development at Special Olympics New York, said:
"There are truly not enough words to express our sincere appreciation to each [employee] and the entire IDEX family for allowing us [to] share our story, our journey, and mission to create a community of [INCLUSION]. You are an inspiration to our athletes. You are rockstars and we are YOUR fans for life. Thank you for filling up our hearts with encouragement, hope, confidence and vision."
Volunteers from the Carlsbad and Rochester teams donated time teaching STEM classes, supporting their local Boys and Girls Clubs. Pat Maldi, Director of Development at the Boys and Girls Club of Carlsbad, said:
"With rising anxiety, depression, loneliness, and achievement gaps our impactful programs are needed now more than ever. Every day we are rising to meet that need, and because of you, we can help the families that need it the most by immediately providing scholarship assistance to any child who cannot afford membership. Because of you, we can continue to be the Clubs our community needs for the challenges of the coming years. Your support is integral to our success, and we are very grateful to IDEX."
After partnering with IDEX to fill 575 backpacks for RCSD Roberto Clemento School #8, Deb Rosen, CEO of Jewish Family Services, said:
"IDEX truly goes above and beyond to make sure that students have what they need to succeed in the classroom. Hundreds of backpacks filled to the brim with school supplies are a dream come true for students, educators, and parents—and that's exactly what IDEX has gifted to the Pencils and Paper program of Jewish Family Services. We are so grateful to IDEX for its vision and generosity, making classroom success more achievable for hundreds of children in Monroe County."
Other LSO donation recipients included: Mt Hope Family Center, Jacob & Cushman San Diego Food Bank, Foodlink, Rochester Childfirst Network, First Presbyterian Church of Oceanside Food Drive, Willow Domestic Violence Center, Open Door Mission, GotSneakers, and the Kade O'Brian Toys for Tots Project.
"If stories like these inspire you, we'd love to have you as part of the IDEX Health & Science Life Science Optics team," said Dina G. Vazzana. Open positions can be found at https://sfo.idexcorporation.jobs/
The Life Science Optics team looks forward to discovering new, impactful ways to give back to the communities they live and work in for 2023. Learn more about IDEX Health & Science's donation drives and volunteer events here: https://www.idex-hs.com/news-events/2022-making-a-difference/
About IDEX Health & Science, LLC
IDEX Health & Science, LLC is the global leader in life science fluidics, microfluidics, and optics, offering a three-fold advantage to customers by bringing optofluidic paths to life with strategic partnerships, solutions, and expertise. As one of the few companies in the world with component, sub-system, and application level experts, IDEX Health & Science helps instrument developers solve the most demanding fluidic and optical challenges in a wide array of applications. At IDEX Health & Science we believe partnership will change the way the world innovates, leading to new technologies that improve our health, protect our planet, and enrich our lives. For more information visit: www.idex-hs.com