Al Sigl Sports Committee volunteers distribute $80,000 in grants
This week, Al Sigl Sports Committee volunteers presented checks for $80,000 in grants to Al Sigl Member Agencies. The grants will benefit over 55,000 kids and adults with special needs and their families in our community. Al Sigl Member Agencies include CP Rochester; EPI; Medical Motor Service; National MS Society Upstate NY; Rochester Hearing & Speech Center; Rochester Rehabilitation; and Starbridge.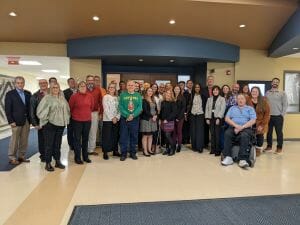 At the presentation, representatives from each nonprofit agency shared the impact of past Sports Committee grants, and talked about what this year's grants will make possible. Programs and projects receiving funds included accessible dental services for people of all ages with special needs; self-advocacy programs; respite services; specialized transportation for people unable to utilize traditional services; peer-led support groups and educational opportunities; supported employment programs; technology updates; programs that help people stay active and connected in the community; and audiology screening equipment.
Al Sigl would like to recognize the Sports Committee volunteers for sharing their time at multiple events throughout the year to raise funds to make these grants possible. As Al Sigl Community celebrate 60 Years of Achieving More Together, we truly appreciate your continued support of our collaborative mission.
To learn more about Al Sigl Community of Agencies, please visit alsigl.org.