U.S. Chamber of Commerce Awards Greater Rochester Chamber of Commerce with 5-Star Accreditation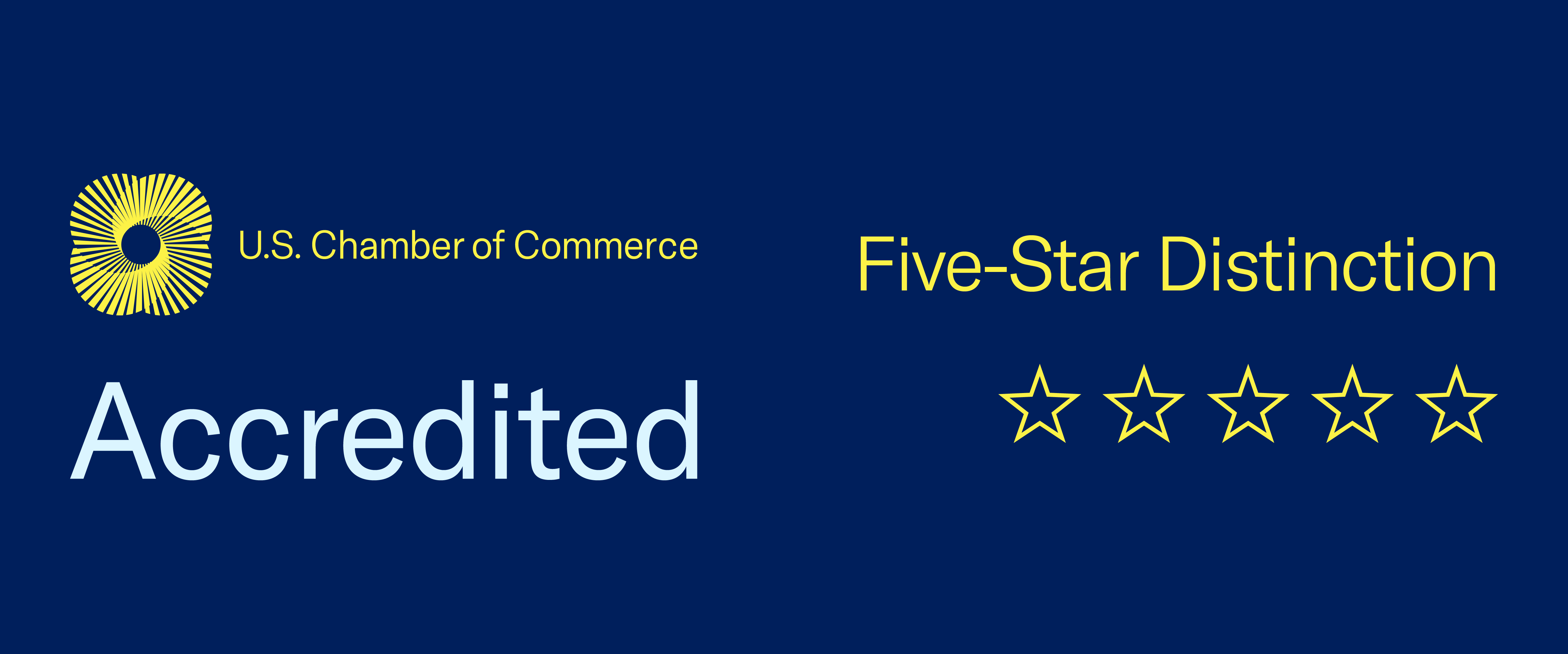 The U.S. Chamber of Commerce has awarded Greater Rochester Chamber of Commerce with its designation of Accredited with 5 Stars for its sound policies, effective organizational procedures, and positive impact on the community.
This is the second consecutive time Greater Rochester Chamber has achieved this highest level of distinction from the U.S. Chamber of Commerce, the world's largest business organization. There are only two other five-star accredited chambers in New York State, and only 142 of 7,000 chambers nationally have received this honor.
"Chambers of commerce that achieve an Accreditation designation are truly leaders in their industry," said Raymond P. Towle, U.S. Chamber Vice President, Federation Relations and IOM.  "This rigorous review includes all aspects of a chamber's policies, operations, and programming.  When chambers of commerce earn the distinction of becoming Accredited, it is a mark of excellence for the organization, its staff, and its leadership. Accredited chambers are recognized for their ability to serve as a resource to their region's businesses while maintaining transparent governance practices, sound financial controls, safe work environments, effective communications, and value in programming.  They are commended for their continued advocacy of free enterprise, and for their commitment to serving members and their local businesses.  Congratulations on this tremendous accomplishment."
The purpose of the U.S. Chamber's Accreditation Program is to facilitate continuing excellence in the chamber industry and to foster a pro-business environment across America. In order to receive Accreditation, a chamber must meet minimum standards in their operations and programs, including areas of governance, government affairs, communications, and technology. This extensive self-review can take 6-9 months to complete.
"Our Greater Rochester Chamber team is built on the values of passion, integrity, collaboration, inclusion, and fierce commitment to our members and community," said Bob Duffy, Greater Rochester Chamber President and CEO. "Receiving this highest distinction from the U.S Chamber of Commerce again underscores our role as the trusted partner, resource, and advocate for businesses and non-profits in Greater Rochester, New York. By adhering to high standards of organizational excellence, we are best equipped to drive economic vitality in our region. I want to thank our team for all of their hard work throughout this process, as well as our members for their ongoing engagement and support."
Local chambers are rated Accredited, 3-Stars, 4-Stars, or 5-Stars. State chambers are recognized as either Accredited State Chamber or Accredited State Chamber with Distinction. The final determination is made by the Accrediting Board, a committee of U.S. Chamber board members.