The Pike Companies, Ltd. Earns Great Place To Work® Certification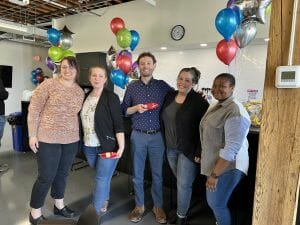 Rochester, NY — The Pike Companies, LTD. — a fifth-generation construction business that operates two construction companies, The Pike Company and LECESSE Construction — is proud to announce that it is has been Certified™ by Great Place to Work® for the 2022-23 fiscal year. The prestigious award recognizes employers based entirely on what current employees say about their experience working at the organization.
"It's our incredible employees we have to thank for the Great Place to Work honor," The Pike Companies, LTD. CEO Rufus Judson said. "Since 1873, our company culture has been built around putting family first, and that continues to hold true today. It's imperative that we create an environment where our employees feel valued and have the opportunities to grow not just at a job, but in their careers and their personal lives. Our employees are leaders, problem solvers, team players and relationship builders who drive our culture on and off the job site. Without our employees, our family, our partnerships, The Pike Companies would not be the great place to work that it is."
The Pike Companies, LTD. prides itself on its core values: Professional Consulting Mindset and Behaviors (PCMB) Leadership, Ownership, Candor and Problem Solving, Collaboration Gets Things Done Right and Authenticity.
For 11 years in a row, Pike has been recognized as one of the Best Companies to Work for in New York by the New York State Society for Human Resource Management and is among the top 400 contractors list by Engineering News-Record.
For more information on The Pike Companies, LTD., click here.
About Great Place to Work Certification:
Great Place to Work® certification is the most definitive "employer-of-choice" recognition that companies aspire to achieve. It is the only recognition based entirely on what employees report about their workplace experience – specifically, how consistently they experience a high-trust workplace. Great Place to Work® Certification is recognized worldwide by employees and employers alike and is the global benchmark for identifying and recognizing outstanding employee experience. Every year, more than 10,000 companies across 60 countries apply to get Great Place to Work-Certified.
About Great Place to Work:
Great Place to Work® is the global authority on workplace culture. Since 1992, they have surveyed more than 100 million employees worldwide and used those deep insights to define what makes a great workplace: trust. Their employee survey platform empowers leaders with the feedback, real-time reporting and insights they need to make data-driven people decisions. Everything they do is driven by the mission to build a better world by helping every organization become a great place to work For All.