2022 Young Women of Distinction Award Finalists Announced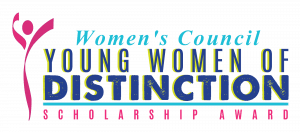 ROCHESTER, NY (April 4, 2022) The Women's Council, a Greater Rochester Chamber of Commerce affiliate, has announced the 20 finalists for its annual Young Women of Distinction Award.  The scholarship program supports the Women's Council's belief that young women with promise today will become tomorrow's leaders.
Modeled after the ATHENA Award, the program is designed to discover high school seniors who have displayed outstanding leadership, academic excellence, and involvement in the nine-county Greater Rochester and Finger Lakes region. Four top recipients, one each from the Rochester City School District, Monroe County east, Monroe County west, and the eight regional counties surrounding Monroe, receive a $2,500 scholarship.
The 2022 Young Women of Distinction Award finalists are:
Amy Feng – Pittsford Sutherland High School
Catherine Healy – Penfield High School
Joyce Shi – Pittsford Mendon High School
Lola DeAscentiis – The Harley School
Mary Cotter – Allendale Columbia School
Stefanie Sellitto – Webster Schroeder High School
Aaniyah Simmons – World of Inquiry School
Natalie Buzzell – School of the Arts
Shannon Conner – School of the Arts
Emma Manley – Brockport High School
Gwen Bushen – Aquinas Institute of Rochester
Isabelle Price – Hilton High School
Jessica Williams – Hilton High School
Lydia Dawkins – Hall – Gates Chili High school
Angela Tewksbury – Livonia High School
Anna Quarterman – Naples Central School
En-Ya Shen – Geneva High School
Kasey Hall – Naples High School
Noelia Ventura – Batavia High School
Sydney Haas – Victor Senior High School
Greater Rochester Chamber of Commerce and its Women's Council affiliate will recognize the finalists during an in-person celebration on May 3 at The Strathallan. For more information on the Young Women of Distinction Award, visit www.rocwomenscouncil.org or contact Cassidy Franklin at Cassidy.Franklin@GreaterRochesterChamber.com.  Donations are welcome, and directly support the Young Women of Distinction scholarships and event: https://www.racf.org/fund/young-women-of-distinction-fund/