Iconic IT Teamed up with ConnectWise for National Tour that Pairs Wine Tastings with the Latest Learnings on Cybersecurity for Small and Medium-Sized Businesses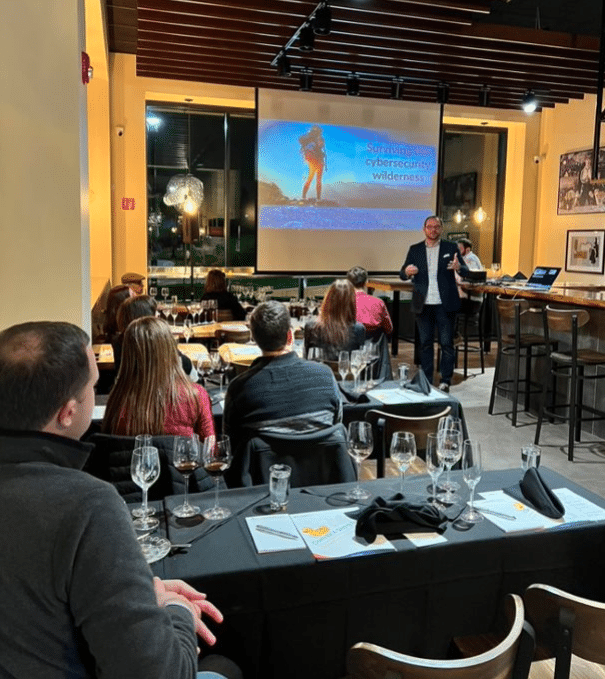 ROCHESTER, NY, December 9, 2021—As it turns out, businesses in Rochester like their cybersecurity education with a side of wine. As a national managed service IT provider with a large presence in Rochester, Iconic IT hosted a well-received cybersecurity event that featured a wine tasting at Carnegie Wine & Kitchen on Dec. 7.
The event featured security presentations from Sitima Fowler, VP at Iconic IT, and Wes Spencer, VP at ConnectWise, a premier cybersecurity software and monitoring company. The response to the event is proof that companies are hungry for up-to-the-minute advice on cybersecurity, presented in a relaxing environment, said Fowler.
"Cybersecurity headlines have been pretty scary lately, and companies have a lot of choices when it comes to cybersecurity tools. And that's the hard part," Fowler said. "In between wine flights, we showed Rochester business owners why every cybersecurity tool isn't necessarily right for their business, and the importance of thinking strategically about their cybersecurity risk, before they buy. The secret," Fowler added, "is in getting the right risk assessment."
Free Event Replay Available
Fortunately, the presentation for this event (minus the wine) will be available to anyone to enjoy. "We wanted to make this important security presentation available to any business to see," Fowler said. "In it, we talk about the common mistakes that small to medium-sized businesses make when they create a cybersecurity strategy, and what modern security strategies address those concerns. It's a real can't-miss opportunity," she added. The replay is available at: https://youtu.be/gcBL8GqAGus.
Free Cybersecurity Assessments for Qualified Rochester Businesses
Fortunately, Rochester-area companies don't have to attend one of Iconic's Wine & Cybersecurity events to get the benefit of a good risk assessment. Iconic IT will be offering a select number of small and medium sized companies in Rochester a free cybersecurity risk assessment—a $1500 value. The assessment will include:
Measuring your company's cybersecurity program against the National Institute of Standards and Technology (NIST) best practices
Providing Risk Reports that identify your biggest cybersecurity gaps
A step-by-step plan for remediation
Recommendations for an updated cybersecurity plan
Want to know if your business qualifies? Visit the Iconic IT website and submit your company for consideration at https://go.iconicit.com/risk-assessment.
About Iconic IT
Iconic IT is an award-winning Managed IT Service Provider (MSP), providing small and medium organizations with local and responsive IT support services. We feature budget-friendly service plans with coverage as vast as the iconic national parks they are named after. We specialize in fully managed or co-managed IT support, cybersecurity and cloud solutions, strategic guidance, and excellent customer service using our exclusive PROS service model (Proactive, Reactive, Ownership, and Strategic). You are the hero in our IT story, and Iconic IT is your guide. We serve the following local communities: Dallas Fort Worth and East Texas, Wichita Kansas, Buffalo and Rochester New York, Bonita Springs Florida, and Denver Colorado.
For media inquiries, contact Susan Gosselin, Iconic IT Marketing at sgosselin@iconicit.com