IDEX Health & Science Receives the Laser Focus World Innovators Award for their Kola Deep™ Spectral Measurement System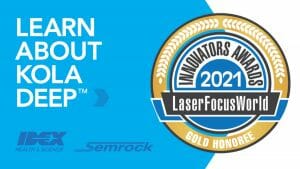 Rohnert Park, California, September 22, 2021 – IDEX Health & Science (IH&S), the global leader in optofluidic components and subsystems, announced today that its Life Science Optics business unit has received the Laser Focus World Innovators Award for their Kola Deep™ Spectral Measurement System. This award recognizes excellent innovation, the benefits of which are clear and represents substantial improvement over previous methods employed, approaches taken, or products/systems used, was determined by an esteemed and experienced panel of judges from the optics and photonics community.
"On behalf of the Laser Focus World Innovators Awards, I would like to congratulate IDEX Health & Science on their Gold level honoree status," said Laser Focus Word Publisher Paul Andrews. "This competitive program allows Laser Focus World to celebrate and recognize the most innovative products impacting the photonics community this year."
IDEX Health & Science's Kola Deep Spectral Measurement System (SMS) is revolutionizing thin film coating metrology by bringing Optical Density (OD) theory into measurement reality. By providing precise measurements of deep blocking and steep edges at any angle from 0 degrees to 60 degrees, the Kola Deep SMS outrivals the best commercially available spectrophotometers. "By listening to our customer's requests and to enhance our manufacturing capabilities, our innovative engineers developed a proprietary new system that measures the steepest and deepest spectral features of IDEX Health and Science's line of Semrock Optical Filters, ensuring our customers' instruments will deliver best-in-class sensitivity", said Liam Casey, PhD, Director, Product Management-Semrock Filters.
The Kola Deep SMS is a spectral measurement system designed to measure demanding thin film coatings – precisely measuring the deep blocking provided by steep spectral edges. Kola Deep can evaluate blocking to OD8+ across the UV, visible and NIR spectra. Kola Deep resolves edges steeper than 0.2% relative to edge wavelength from 90% transmission to beyond OD7. Measures with a precise AOI at any angle from 0° to 60°, a much smaller cone-half angle (0.3°) than any commercial spectrophotometer (typically about 3°), and measures with a much smaller spot size (2 mm diameter) than commercial spectrophotometers (typically 20 mm in extent).
About IDEX Health & Science, LLC
IDEX Health & Science, LLC is the global leader in life science fluidics, microfluidics, and optics, offering a three-fold advantage to customers by bringing optofluidic paths to life with strategic partnerships, solutions, and expertise. As one of the few companies in the world with component, sub-system, and application level experts, IDEX Health & Science helps instrument developers solve the most demanding fluidic and optical challenges in a wide array of applications. At IDEX Health & Science we believe partnership will change the way the world innovates, leading to new technologies that improve our health, protect our planet, and enrich our lives. For more information visit: www.idex-hs.com