NY HERO Act – Is Your Infectious Disease Plan in Place and Activated?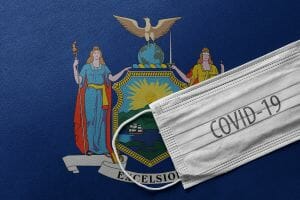 On Monday, September 6, 2021, New York Governor Kathy Hochul announced that the Commissioner of Health has designated COVID-19 as a "highly contagious communicable disease that presents a serious risk of harm to the public health" under the New York State HERO Act. The HERO Act requires all NYS employers to implement various safety standards and adopt a plan to protect against the spread of airborne infectious diseases in the workplace. COVID-19 has now received this designation which means NYS employers must promptly activate their plans.
Under the Airborne Infectious Disease Exposure Prevention Standard, once a designation is made, employers must:
Immediately review the worksite's exposure prevention plan and update the plan, if necessary, to ensure that it incorporates current information, guidance, and mandatory requirements issued by federal, state, or local governments related to the infectious agent of concern;
Finalize and promptly activate the worksite exposure prevention plan;
Provide the verbal review as detailed in the standards; and
Provide each employee with a copy of the exposure prevention plan in English or in the language identified as the primary language of such employees if available, plus post a copy of the plan in a visible and prominent location at the worksite and ensure that a copy of the plan is accessible to employees during all work shifts.
While the designation remains in effect, each employer shall ensure that the plan is followed by:
Assigning enforcement responsibilities to one or more supervisory employees;
Monitoring and maintaining exposure controls; and
Regularly check the NYS Department of Health and CDC websites for updated information and update the plan as necessary.
One source of confusion to many employers is the lack of information on what a 'verbal review' is or what is required for health screenings. Further guidance will hopefully be coming soon from NYS and/or the CDC. In the meantime, your attorney is the safest source for guidance as they will be defending you in the event of a compliance issue. With that said, some attorneys have taken the position that a verbal review may be in the form of the typical method your organization uses to communicate important compliance and policy info to employees. As for health screenings, utilizing the health screening process you implemented as part of your NY Forward safety plan last year might be a good place to start, but be prepared to shift as additional guidance is released.
Greater Rochester Chamber will continue to follow new developments from NYS and will notify members of further changes via the Tuesday weekly Voice of Business emails, or by direct email if warranted.
Members with questions on this or other HR-related issues may contact the following HR Helpline staff for assistance: Kathy Richmond at (585) 256-4618 and Jennifer Suppé at (585) 256-4608. Corporate and Partner members have unlimited HR Helpline access, Business Builder members receive 4 requests per membership year, and Basic members receive 1 request per membership year. If you are unsure of your membership level, please contact Kevin Donahue, membership director, for assistance at (585) 256-4651.