The Arc of Monroe's Community Connections Program Creates Partnership with Refugee Non-profit
The groups work together to help get homes ready for refugees coming to Rochester.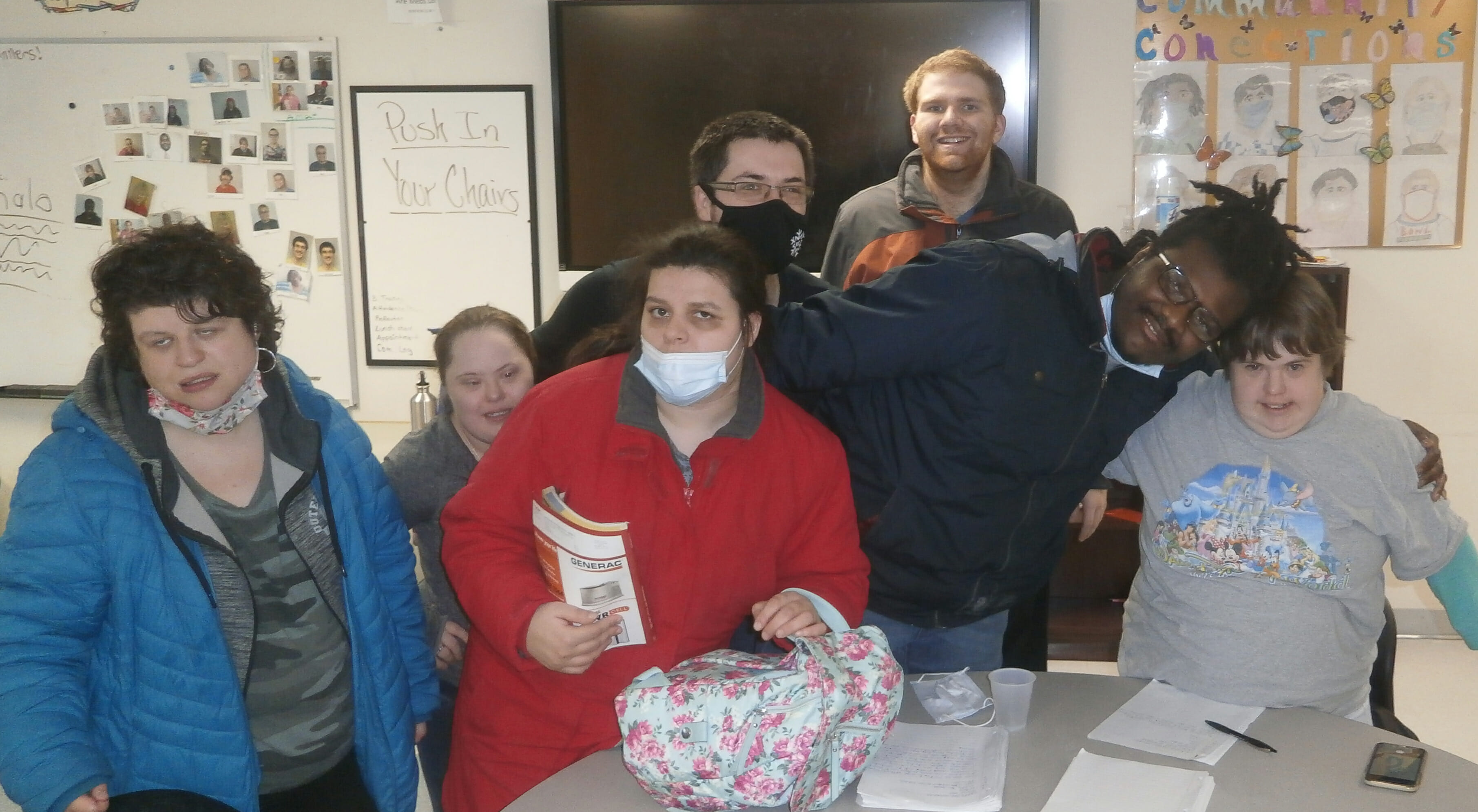 ROCHESTER, NY – A big part of Nick Wagar's job at The Arc of Monroe is to find volunteer opportunities for the people he supports at the agency's Community Connections program – people with intellectual and developmental disabilities. As an Individual Support Employment Specialist, Wagar's job depends on finding meaningful opportunities for his group to give back to the Rochester community. But during the past two years of the pandemic, that's been a challenge.
Wagar and the Community Connections group hit the jackpot when they got connected with Rochester Refugee Resettlement Services, a non-profit group that offers housing, education and career advancement to refugees who come to Rochester.
"Our group has been getting homes prepared and ready for a family eager to move into," said Wagar.
The group volunteers with Refugee Resettlement Services every Tuesday, giving the Community Connections group an opportunity to learn skills like yard work, painting and even refinishing a deck. Executive Director Djifa Kothor, a refugee himself, has been overseeing the Rochester Refugee Resettlement Services program for the last five years and works with the Community Connections group.
"Djifa is a great person, and we are very lucky to have come across this opportunity," said Wagar. "He is what every job coach is looking for – he is very patient with our population. He enjoys teaching and demonstrating tasks and he is flexible with us. He is great with the people we support and gets to know us really well."
Kothor says the workload at Rochester Refugee Resettlement Services is often more than the staff of five can handle, and anytime they have volunteers, it is special.
"Having Nick and the group from The Arc is very helpful because lately we've been overwhelmed with Ukranian and Afghan refugees – we can't get the houses ready fast enough," said Kothor. "We're working Monday through Sunday and still can't get the work done fast enough for the people who need it. The Community Connections guys helped me strip floors and paint basement walls. They've been great."
Rochester Refugee Resettlement Services houses over 400 people in 45 properties. Kothar says the organization believes affordable housing, and having a safe home that one can move into, is essential to resettlement in the U.S.
"We try to give families all the help that we can as they integrate into life in Rochester," he said. "When families have a good home, they feel like a part of their country is here with them. It gives them a feeling of being home while being in a different county."
Wagar sees this new partnership – and friendship – as a win-win for everyone involved.
"Djifa doesn't see a group of people with disabilities," said Wagar. "He doesn't see the disability and we don't want to let them down. This volunteer opportunity is kind of like the light at end of our tunnel."
To learn more, contact Christen Smith, director of marketing, at (585) 773-8538.
About The Arc of Monroe
The Arc of Monroe has been providing a variety of programs and services for over 1,400 people with intellectual and/or developmental disabilities and their families in the Rochester community for over 65 years. The Arc works to enhance the quality of life and self-esteem of people in its programs, providing them with meaningful social development, supported employment, residential community living and enrichment opportunities. The Arc has 40 locations in Monroe County that assist people with intellectual and/or other developmental disabilities that include autism, Down syndrome, cerebral palsy, Asperger syndrome, and pervasive developmental disorders among others.